There is a Greek word, hamartia, which is usually translated as tragic flaw, although it connotes more a cognitive than a moral failing — the lack of an important insight, a misperception, a blindness, a failure to perceive ethical and spiritual consequences. The idea of hamartia is often ironic; the very strength that makes the protagonist a hero is what brings about disaster.
A complete biography of Carlos Castaneda has yet to be written. His life in many ways followed a classic Hollywood arc — a trajectory from obscurity to fame and fortune and, finally, to a sort of desperate madness. And the story, too, is a classic tragedy, since Castaneda was undone by the very qualities that brought him his remarkable success. He was charming, boyish, imaginative, clever, filled with enthusiasms, and driven by a need to outwit the world. Castaneda was ultimately undone by a profound hamartia.
For many of us, The Teachings of Don Juan was our first glimpse into a shamanic world at once magical and meaningful, not just for primitive and superstitious people in distant countries, but for ourselves. The character don Juan Matus was the teacher we all yearned for, an initiator into this dark and magical realm — self-contained, charismatic, cynical, intimidating, wise, loving us despite our flaws.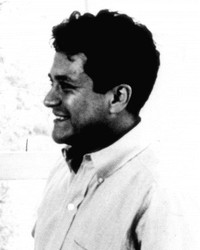 Carlos Castaneda
It was all, of course, a fraud. But we were willing to forgive Castaneda, at least for a while, because he was himself the trickster teacher, who had caught the spirit of our deepest needs.
Eventually it all unraveled. The books became increasingly bizarre and inconsistent. Detailed skeptical analysis revealed fiction after fiction. It seemed that every time Castaneda had a new enthusiasm, his purported teachers would have a new teaching. I stopped reading after the third book.
If you were not paying close attention — if you were not within the oddly contoured boundaries of Castaneda's inner circle — it was easy to miss the accelerating weirdness of Castaneda's final years. When he died of liver cancer in 1998, at the age of 72, the impeccable warrior left behind a legal mess, irreparable damage to Yaqui and Huichol cultures, and a core of female cult followers, at least one — and perhaps all — of whom committed suicide.
Soon after Castaneda's death, The New York Times published an article about the lingering legal and familial chaos. In 2007, Salon published a comprehensive article about Castaneda's last days and the fate of his followers, entitled The Dark Legacy of Carlos Castaneda. And in 2006 the BBC produced an hour-long documentary on Castaneda, which you can see, in four parts, here: