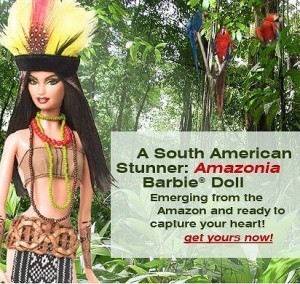 Amazonia Barbie®
We have discussed before — here and here and here — the strange ways that the jungle, and in particular the Amazon, has penetrated Western consciousness. Now I have found a new phenomenon to add to the list of odd hybrid cultural artifacts — Amazonia Barbie.
The official Mattel product description reads: "The Amazon is a natural source of beauty, bounty, and the mighty Amazon River. The Amazonia Barbie® doll celebrates this extraordinary paradise, dressed in a costume inspired by the native people. From the feathers atop her long dark hair to her tribal tattoos, this striking doll will captivate your heart."
She joins Brazilian, Chliean, and two Peruvian Barbies in the Dolls of the World® South America collection.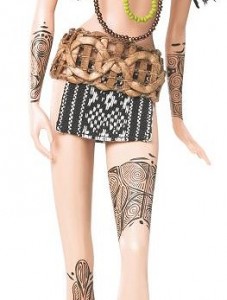 Amazonia Barbie's belt, loin cloth, and "tribal tattoos"
Amazonia Barbie is, as they say, muy gringa — tall, thin, pale-skinned, and with a narrow nose, although she does have long straight black hair. Unlike many traditional Amazonian women, Amazonia Barbie wears a sort of tube top over her breasts, a complex heavy belt, and a loin cloth. She has on her arms and legs what the description calls tribal tattoos, but which are apparently modeled after body decorations drawn on the skin with the juice of the immature fruit of the huito, Genipa americana, which oxidizes to a very dark blue color. This body art is often on the face — you can see some photographs here — but I suspect that a Barbie doll with geometric designs on her face would have been unacceptable to the manufacturer.
I am not sure that I can draw any deep cultural lessons from this. Of course Amazonia Barbie does not look anything like a real Amazonian woman. It is not at all clear that she is intended to. The mold is the same as all the other Barbie dolls, perhaps with some variation in skin color, and her eyes appear to have been given a slightly Asian cast. If she is not an authentic representative of Amazonian culture, it is because she is not in fact intended to be a representation of any culture at all. Her ethnicity is a stereotype built up out of fragments of an imagined culture. She is an American doll playing dress-up.
Linda Kyaw (left) and Amazonia Barbie
The designer of Amazonia Barbara is Linda Kyaw, who is employed by Mattel Inc. to design Barbie Dolls, and then to promote them by appearing at Barbie Doll conventions. She also designed other members of the Dolls of the World Collection, including Scotland Barbie and France Barbie, as well as my personal favorite — a Barbie doll costumed as the goddess Aphrodite.
Apparently different Barbie doll designers develop individual styles that are instantly recognizable to connoisseurs. One collector complains Amazonia Barbie's face is too typical of dolls designed by Kyaw, "with the same color shades and gold tones on their faces." Another has complained that Amazonia Barbie is too pricey for an almost naked doll. It took me a moment to figure that one out.
Amazonia Barbie is available, among other places, at Toys"R"Us for $29.95.