Type 2 diabetes — in which high blood sugar occurs even when the body is producing insulin — has reached epidemic proportions among Native Americans. The statistics are startling. Based on 2007 estimates, 16.5 percent of American Indians and Alaska Natives suffer from the disease. That is more than twice the national average of 7.8 percent. Complications from diabetes are major causes of death and health problems in most Native American communities.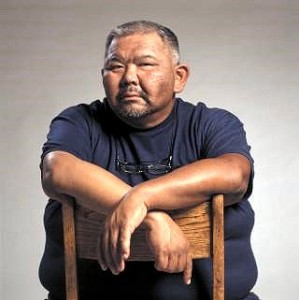 Brion Whitford, Ojibway filmmaker
Among tribes in southern Arizona, 29.3 percent of adults are diagnosed with the disease. Pima tribes in the state suffer from one of the highest rates of diabetes in the world. Fifty percent of the tribe between the ages of 30 and 64 have diabetes — more than 19 times the rate of an urban white population. In South Dakota, nearly every county that is home to a reservation has a diabetes rate higher than 10 percent. In Big Horn County, Montana, home to the Crow Reservation, 12.3 percent of the population has diabetes — the highest rate in the state.
Compounding these concerns is the fact that type 2 diabetes is increasingly being discovered in Native American youth. Forty years ago it was almost unheard of for teenagers to have this disease.
Type 2 diabetes "is a complex disorder with strong environmental and genetic components," says Robert Williams, an anthropological geneticist at Arizona State University. While any genetic contribution remains unclear, the Native American diabetes epidemic was almost certainly triggered by an unfavorable change in environment since the mid-twentieth century. It is a disease of progress — fatty foods, sedentary lifestyle, and obesity.
The website of the American Diabetes Associations says, "Years ago, Native Americans did not have diabetes. Elders can recall times when people hunted and gathered food for simple meals. People walked a lot." Mary Thomas, lieutenant governor of the Gila River Indian Community in southern Arizona, agrees. "Our diet was lean," she says. "We ate fish and game, beans and quail. Then, with the white man, a new diet came." One study estimates that the fat content of the Pima diet rose from 17 percent before contact with Europeans to 38 percent in the current diet.
Obesity is well recognized as a risk factor for type 2 diabetes, and the incidence of diabetes among the Pima rises with the duration of obesity. Obesity is also associated with lower levels of physical activity. Other cultural factors may also be at work. Among the Pima, for example, for reasons that are not understood, breastfeeding for a period of at least two months is associated with a 50 percent reduction in rates of diabetes.
And then there are the effects — unmeasured and often ignored — of oppression, internal colonization, loss of cultural identity, and the slow dissolution of spiritual traditions.
In the documentary The Gift of Diabetes, Ojibway filmmaker Brion Whitford, with co-director John Paskievich, tells the story of his own journey through advanced diabetes.
In 2001, complications from the disease left Whitford with only fifty percent kidney function and blood sugar levels that were spiraling out of control. Raised in the city, he had grown up without knowing his cultural heritage. He was skeptical of traditional healing, but biomedicine was not controlling his disease, much less his long-term feelings of anger, hopelessness, and despair.
The film follows Whitford's search for answers — a spiritual quest that takes him to Wounded Knee and an Akwesasne anger management workshop, to biomedical doctors and traditional healers, to a sweat lodge and a foot care clinic. In many ways, the film is structured as a vision quest, in which Whitford is seeking not only his own understanding but also for a gift that he can bring back for his people.
"While we are alive," he is told by Kahnawake Mohawk activist Stuart Myiow, "we have the unique ability to decide what kind of ancestors we want to be." Later, Whitford reflects, "I am doing this journey not only for myself but also for those who come after me. It makes me want to be an honored ancestor."
His diabetes is a metaphor for what he describes as his "self-loathing and alienation from my people." The disease is the physical form of a spiritual condition, a sickness of the soul; in finding his cultural roots, he is able to take on the discipline of controlling his condition. "All of a sudden it became clear to me," he says after being hospitalized for a heart attack. "The teachings that I had been told led back to me and what I wanted in life. And I wanted to live." He learns to honor the traditions he never knew; a ceremonial feast helps him to accept the death of his grandfather many years before. "Diabetes," he says at the end, "has been a gift that has saved my life."
Through the generosity of the National Film Board of Canada, I am able to place the entire hour-long film on this blog.