Jerry Burchfield, Panicum laxum (2000)
Jerry Burchfield is a photographer without a camera. Instead, he uses a photographic technique that goes back to the nineteenth-century beginnings of photography — laying materials directly on a black-and-white photosensitive medium, and creating negative images of the shadow cast by sunlight passing through the object. Burchfield calls these lumen or light prints. The results are astonishing.
For his book Primal Images: 100 Lumen Prints of Amazonia Flora, Burchfield made three trips to the Amazon River basin to collect plants and other organic samples to create his lumen prints. He used outdated black-and-white photo paper, exposing the samples to sunlight on the bow of his boat. The results were unpredictable, dependent on the quality of the light, the changing temperature and humidity, the passage of rain and clouds, the translucency of the specimen, and the effects of chemical staining from the plant samples themselves. The process yielded an amazing array of colors on the black-and-white paper, surprising even to Burchfield himself.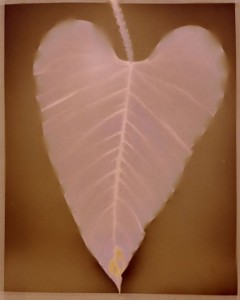 Jerry Burchfield, Philodendron melinonii (2002)
Burchfield was thus unable to pre-visualize his photographs; he could only see how they had turned out after the process was completed. There could be no duplicate photographs. Each print was an original, the result of an extended exposure time rather than chemicals. The entire process was aleatoric, indeterminate, anarchic, producing a single unique outcome. Unmediated by camera or lens, the images came directly from the interaction of the plants with their own Amazonian environment.
Burchfield — a longtime environmental activist — is explicitly aware of the political meanings of his photographic method. Normally, nature photography is like an extractive industry: the ecotourist photographer masters the Amazon by bringing back documents extracted by sophisticated technologies that were invented elsewhere. Burchfield says that such photography has become a substitute for real experience; this tragic loss in turn contributes to the abuse of the environment. "I seek real experience," he says, "and try to make work that connects directly with natural energies."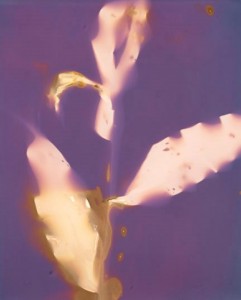 Jerry Burchfield, Acacallis cyanea (2002)
Thus, Burchfield's method does not seek mastery over nature, but rather a willingness to interact with the accidental and unexpected, to give up control to the spirits of the plants — to let the plants photograph themselves.
To that extent, Burchfield's photographic method is ineluctably shamanic.
Primal Images contains a foreword by famed ethnobotanist Wade Davis and an introductory essay entitled Beyond the Importance of Objects by Jonathan Green. The photographs were originally exhibited at the University of California Riverside's California Museum of Photography; a gallery of images is here, along with an excerpt of the Jonathan Green essay. An extended discussion by Douglas Stockdale is here.