Alexander Shulgin — familiarly known as Sasha — is a giant in the field of psychopharmacology, widely loved and admired for his inventiveness, courage, and sense of humor. As I wrote here, Shulgin was a scrupulous and innovative chemist, and the creator of more than 230 psychoactive substances, most of which he tested on himself and on his wife Ann. He was a consultant for the DEA, and often served as an expert witness at trial. Yet the DEA raided his laboratory, demanded that he turn over his DEA Schedule I license, and fined him $25,000 for the possession of samples sent to him for quality testing.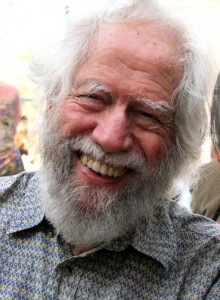 Alexander Shulgin
In a 2005 interview with The Guardian, Shulgin was asked the purpose of his research. "It's toward the developing of tools for use in the functioning of the mind, the mechanism of the mind," he said. "A lot of these materials are themselves, or are related to, materials that could be used in humans for determining the mysteries of how the mind works. They're research tools."
Shulgin has often described his experimentation as a way of opening doors. "It's unbelievably exciting," he told The Guardian. "You're opening doors that have never been opened before, doors where they didn't even know there was a door." In 2008, he told Scientific American, "It is like opening a door to a hallway, that has unopened doors for its entire length, and behind every door is a world with which you are totally unfamiliar." He has stated his intention of opening — and entering — as many of those doors as possible.
For about four years now, Turn of the Century Pictures has been working on a documentary about Shulgin. Producer Sebastian Saville and Director Etienne Sauret originally promoted the film on a website called The Shulgin Project, which may or may not have been the name of the film as well. But the date 2007 remains stubbornly stuck on the site's home page, and the promised trailer — otherwise freely available on YouTube — does not play when clicked, despite the unchanging promise that The trailer will begin shortly. The website appears abandoned.
At the Turn of the Century website, the Shulgin film is now called — for reasons the website does not make clear — Dirty Pictures. There is a link back to the 2007 website, and a promise that the film, now in post-production, will be released in 2009.
There is reason to believe that the film has evolved over the years. Originally the focus appears to have been specifically on Shulgin's life and work. In 2007 the film seems to have expanded into an examination of the regulation and suppression of psychoactive plants and drugs. Doctors using MDMA to treat terminal cancer patients, shamans using psychedelics to heighten spiritual awareness, multiple sclerosis sufferers self-medicating with marijuana, artists using LSD as a creative tool — "such practices are at best restricted and at worst outlawed," the website announces. "But what are the motives behind the regulations?"
But this focus seems to have been overtaken by events. As a May 2008 article in the prestigious British medical journal The Lancet puts it, research on psychedelics has moved into the mainstream. After their use in a variety of clinical contexts, not always with rigorous methods, and following widespread non-medical use, "research was quashed for misguided but understandable reasons," says Rick Doblin, president of the Multidisciplinary Association for Psychedelic Studies. Now, Doblin told The Lancet, that scenario is rapidly changing, with several phase II trials underway worldwide, and many more studies ongoing or planned. "It's amazing how much is going on," he said.
So, in 2009, the focus of the film appears to have shifted again, this time to document the work of scientists and researchers — a "select group of people," the filmmakers say, including Shulgin — investigating what can be learned about the mind and human behavior through research with psychoactive substances. "The film is about them," they say, "their findings and motivations, their ideas, and their beliefs as to how research in this particular field can aid in unlocking the complexities of the mind."
UPDATE: The film — at last! — was released in June 2010. I finally saw it at its Chicago premier in May 2012 at the historic
Portage Theater
, and it was worth the wait. Here's the official trailer: