For most of his life, psychologist Carl Gustav Jung enjoyed telling the story of the Solar Phallus Man — the designation was conferred by historian Sonu Shamdasani — and often claimed that the story was the single most compelling piece of evidence for his theory of the collective unconscious.
The Solar Phallus Man was actually a patient named Emile Schwyzer, diagnosed with what was then called paranoid dementia, who had been committed to the Burghölzli Clinic in Zürich in 1901 after an attempted suicide. Schwyzer had been in and out of other institutions for decades. As Jung told it, he had begun treating this patient in 1906. Schwyzer reported a particularly striking hallucination in which the sun had an upright tail — "similar to an erect penis," Jung adds parenthetically — which moved back and forth when Schwyzer moved his head with his eyes half shut, and this motion caused the wind to blow. This is how, Schwyzer explained, he could control the weather.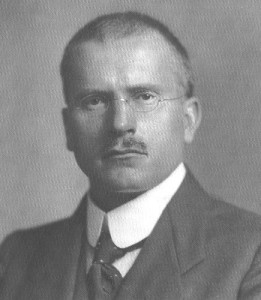 Carl Gustav Jung in 1906
This hallucination, Jung says, remained unintelligible for a long time, until he became aware of remarkably similar symbolism in a Mithraic liturgy, part of the Greek Magical Papyri, that had not been published until 1910. Here the ministering wind was said to originate from an αυλός — a pipe or tube — hanging from the disc of the sun, which could be seen by looking from east to west. Schwyzer was a store clerk with no higher education, unlikely to have read or heard about such an esoteric symbol. Even more, he had described it to Jung before it had even been published. Where could it have come from if not from a collective unconscious?
Now this is a hell of a story, and we can understand why Jung enjoyed telling it. But the story has a number of problems.
Let's start with the dates. Schwyzer's vision had in fact been conveyed not to Jung but rather to Jung's twenty-four-year-old student Johann Honegger, who had interviewed Schwyzer over two months in 1910, while Jung was in the United States, and three years after Jung had stopped treating the patient. Honegger presented the vision of the solar tail or penis — along with a great number of other apparently mythic visions and beliefs he had been told by Schwyzer — at the second International Psychoanalytic Congress in Nuremberg in March 1910. Apparently Schwyzer had told none of this material to Jung. Honegger unexpectedly committed suicide with a morphine overdose in March 1911.
Jung published the solar penis story in Wandlungen und Symbole der Libido in 1911. In that text, Jung credited the discovery of the hallucination to Honegger, and he cited two sources for the Mithraic liturgy it purportedly matched — a 1907 English translation and a 1910 German translation. In fact, as Jung subsequently discovered, the 1910 German translation was the second edition of a work that had first been published in 1903, and upon which the English translation had been based. After the original citation, Jung stopped referring to the 1907 English translation, and he never referred to the 1903 edition of the German translation at all.
In Jung's 1952 English-language revision of Wandlungen, now entitled Symbols of Transformation, Honegger disappears altogether. Here it is Jung who "once came across the following hallucination in a sczhizophrenic patient." As late as 1959, in an interview with John Freeman on the television program Face to Face, Jung insisted that he had heard the solar penis vision in 1906 and that the Mithraic liturgy was first published four years later in 1910. In this version, Schwyzer had grabbed Jung by the lapels and pointed at the sun, saying it had a penis. If Jung moved his head from side to side, he would see. It was this penis that caused the wind.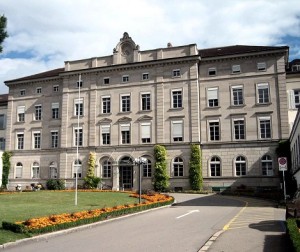 Klinik Burghölzli
It is true that, if Schwyzer was committed to Burghölzli in 1901, then he clearly would have had limited access even to the German translation of 1903. On the other hand, as Richard Noll has pointed out, the image of a solar penis had already been discussed in Friedrich Creuzer's massive compendium of ancient symbolism and mythology, the third edition of which was published in 1841, and in Johann Bachofen's 1861 text on matriarchy. Both of these books had a profound and enduring effect on German popular culture. And there is no way of telling what Schwyzer may have heard from other Burghölzli patients, many of whom were in fact well educated, and at least some of whom had interests, not uncommon among educated German speakers at the time, in ancient religions and symbolism.
But the disappearance of Honegger masks a more serious methodological issue. Shamdasani has recovered the text of Honegger's 1910 presentation of the Schwyzer material, along with another unpublished article on the same case. Since Jung had by that time ceased his clinical practice at Burghölzli to pursue his mythological research, he had given Honegger the task of retrieving mythic material from psychotic patients at the clinic.
Honegger seems to have pursued this task with a vengeance. Schwyzer, Shamdasani notes, turned out to be "a veritable textbook of mythology." He told Honegger that the deity was originally feminine, that the dead became stars in heaven, that the earth was flat and surrounded by infinite seas, and that the sun had a penis — or perhaps a tail — that caused the wind. Honegger could not have been more pleased.
And there is good reason to believe that these were far from spontaneous utterances. They were, rather, the result of Honegger's probing. How do you know that the seed body was always feminine? Honegger asked. Can you also make wind? How do you do it, when you want to make rain? Schwyzer, undoubtedly bored and lonely, would have been only too happy to oblige this interested and sympathetic listener. Indeed, given Jung's admiration for the work of Creuzer, it is not unlikely that his student Honegger had himself read the book and its section on the solar penis.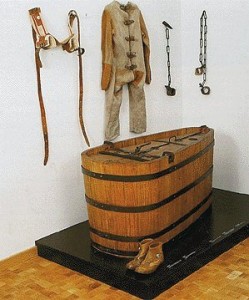 Chains, straitjacket, cell belt, and covered bath tub formerly used to restrain patients at Burghölzli Clinic
Carl Meier, a psychiatrist who had known Schwyzer personally and had reviewed his entire medical file, said that he had never succeeded in finding out the function of the solar penis in Schwyzer's hallucinations. In fact, he said, by the time he knew him, Schwyzer no longer even remembered it.
Putting all of this aside, the problem is that Schwyzer's hallucination in fact provides no evidence at all for Jung's concept of the collective unconscious.
The most important thing about the unconscious is that it is… well, not conscious. How then do we become conscious of — forgive the spatial metaphor — its contents? For Freud, there is no such thing as nonverbal thinking; the unconscious is accessed through words. For Jung, on the other hand, the unconscious is accessed through images. These images appear to us in dreams, fantasy, visions, imagination, and hallucinations. These images are how the unconscious communicates with us.
Again contrary to Freudian psychoanalysis, Jung maintained that, underneath this unconscious, there lay another unconscious, which he called first the phylogenetic and then the collective unconscious. As Shamdasani has demonstrated, the idea of such a phylogenetic or racial unconscious was congruent with so many elements of late-nineteenth-century European thought that it could, he says, almost have been regarded as a commonplace.
For Jung, this collective unconscious is not filled with images. It is filled with archetypes. Jung likened these archetypes to Kantian categories — that is, to a priori conditions for possible experiences. Jung proposed extending the Kantian idea of the logical categories of reason to the production of fantasy; the archetypes, Jung says, are "categories of the imagination."
Archetypes thus are form without content; they are possibilities of images. Although they are themselves without content, they are often, on the basis of the images whose form they provide, named after mythological figures — the Hera archetype, for example, or the Wise Old Man archetype; or they may be named for some abstract theme, such as the archetype of engulfment or the archetype of rebirth.
We can distinguish archetypal images from ordinary images because archetypal images appear to us on a wave of emotion; they possess salience and depth; they are numinous and mysterious. It is these same archetypal images that appear as motifs in myths, legends, fairy tales, literature, and art around the world, arising out of the same set of archetypes in the shared collective unconscious. As Joseph Campbell famously put it, dreams are private myths, and myths are public dreams.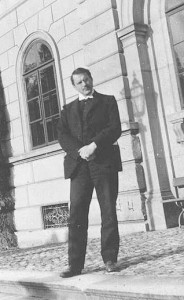 Jung in 1910, standing outside Burghölzli Clinic
There is thus a distinction between an archetype and an archetypal image, a distinction that Jungians — and even Jung himself — have often failed to maintain consistently. There is no access to the archetypes of the collective unconscious; they are transcendental and unrepresentable. All we have are archetypal images, which conform to the a priori conditions imposed by their archetypes. The collective unconscious is a negative borderline concept, just as unknowable as the Kantian thing in itself. We know of the archetypes only through a form of transcendental deduction from numinous images.
Here is an example of how this works out in practice. In psychoanalysis, a dream narrative is analyzed. The patient tells the story of the dream, free associates from that material, relates the dream content to events in childhood. In Jungian analysis, dream images are amplified. The patient — often with active input from the therapist — explores the meaning of the images, not only personally but also historically and transculturally in myths, fairy tales, art, and literature. Amplification is thus a hermeneutic process — a quest for meaning that leads the patient beyond the personal to the wider human and cultural context of the dream material.
So important has this process been that it has had an institutional effect — the development of analytical psychology clubs in urban centers, which are essentially libraries of scholarly resources on myth and religion, where analysts and selected patients can jointly pursue amplification of the patient's dream and fantasy images.
But it is when such amplifications are used — like the hallucination of Solar Phallus Man — to argue for the existence and nature of the collective unconscious that serious methodological and conceptual issues arise.
Methodologically, it is virtually impossible to find uncontaminated material. The clients of Jungian therapists, including those of Jung himself, have been largely self-selected. They enter Jungian analysis because they have read about its interest in myth and dream, and because this reflects their own often long-standing interests. Jungian analysts, too, actively participate in image amplification. That is why Jung considered the Solar Phallus Man so important. It was, he thought, a hallucination that could not conceivably be accounted for by cryptomnesia or forgotten outside sources.
And the idea that numinous images are somehow shaped by transcendental a priori archetypes raises a whole series of troubling conceptual issues.
The claim that the same image has arisen in people far separated in space and time — a Burghölzli patient in 1910, say, and a Mithraic writer fifteen centuries earlier — is meaningless without criteria for deciding when two images are the same and when they are not. Schwyzer's sun is variously described as having either a tail or a penis pointing up; the Mithraic liturgy speaks of the sun as having a pipe or tube hanging down. There is no way to know whether this matters.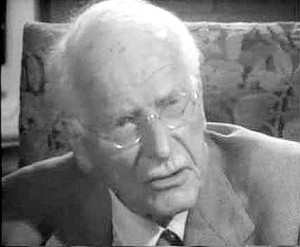 Jung in 1959, on Face to Face, telling the story of the Solar Phallus Man
Moreover, there is clearly no one-to-one relationship between archetype and image. A single archetype can give rise to any number of archetypal images; and a single archetypal image may — or perhaps may not — be of two different archetypes at the same time. If the relationship between archetype and image is many-to-many, then the relationship between an image and any particular archetype becomes indeterminate. In the same way, we have no criteria by which to rule out the possibility that the widely separated solar penis images were coincidentally similar images from two different archetypes.
Just how many archetypes are there? There appears to be no constraint on their number or nature. Steven Walker, a scholar of comparative literature sympathetic to Jung, says that "the list of archetypes is nearly endless." There can be an archetype for just about any possible human situation, it seems; and conversely each archetype can produce an indefinite number of archetypal images. And apparently we can make up archetypes at will. Is there a solar penis archetype? That seems surprisingly narrow for a fundamental a priori category of the imagination. A few minutes thought can yield a dozen archetypal possibilities, from masculine generativity to magical control of the weather. In the endless list of archetypes, how do we decide?
And if the person who has produced the numinous image gets to decide with which mythic motif or fairy tale situation it most clearly resonates, then it is not clear why we need to postulate transcendental archetypes of the collective unconscious at all.
Psychologist James Hillman faced this issue squarely, and he chose to eliminate the noun archetype altogether, while preserving the adjective archetypal. The problem, he says, is that Jung moved "from a valuation adjective to a thing and invented substantialities called archetypes… Then we are forced to gather literal evidence from cultures the world over and make empirical claims about what is defined to be unspeakable and irrepresentable."
But we do not need to take the idea of the archetypal in this reified sense. Any image can be archetypal, Hillman says; it need only be given value — archetypalized or capitalized — by the person experiencing it. "By attaching archetypal to an image," he says, "we ennoble or empower the image with the widest, richest, and deepest possible significance."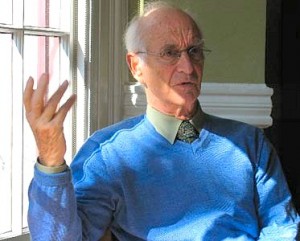 James Hillman
This view informs Hillman's approach to dreams, which is not hermeneutic, as it is for Jung, but rather phenomenological or, in Hillman's term, imagistic, image-centered. "To see the archetypal in an image," he says, "is not a hermeneutic move." He thus sees little value in traditional amplification. "Hermeneutic amplifications in search of meaning take us elsewhere, across cultures, looking for resemblances which neglect the specifics of the actual image." Instead of asking how an image is related to an archetype, the patient begins with and concentrates on images in all their multiple implications — a process psychologist Stephen Aizenstat calls animation, "entering the realm of the living dream." The idea is to personify the image, ask it questions, interrogate its purposes, engage it as a teacher — even identify with it and question its meaning as one's own. Hermeneutics is replaced by imagination.
Still, if what we are looking for is the meaning of images — in dreams, visions, imagination, fantasy — then it is worthwhile, I think, to pursue that meaning wherever we can. We do not need to postulate a collective unconscious or the existence of archetypes to pursue that meaning across cultures and through history, or to place our own images in the vast context of human suffering and transformation. The purpose is to give our dreams and visions life-giving depth, overflowing with meaning and power — what Hillman calls "unfathomable analogical richness."
Nor do we need to limit this pursuit to images from the unconscious. In a dream I see a smiling child, I stumble over a rock, I stand in the rain; and I seek out what these images mean, I engage them and seek their counsel. A smiling child, a rock, the falling rain deserve no less inquiry, no less depth, just because we have classified them as real.