In 2006, Keith Aronowitz, then forty-four years old, was a filmmaker without a direction. He had been professionally involved in the film and television industry for more than twenty years, primarily as an editor working on what he calls "some pretty mindless stuff" — infomercials and reality shows. Now he needed a break. He thought he might go to Vietnam, learn to be a master diver, and spend the rest of his life sitting on the beach. But he decided first to go to Peru and try something he had heard about called ayahuasca.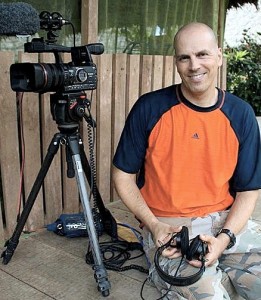 Filmmaker Keith Aronowitz
The ceremonies proved to be profound. "It was an incredible experience," Aronowitz says, "and forever changed my life." He also happened to have brought his camcorder and, just for something to do, he recorded some of the ceremonies and interviewed some of the people who had also journeyed to drink ayahuasca. When he shared his footage, the response was enthusiastic. So he thought: Why not make a documentary?
The film Aronowitz envisioned was deeply personal, so he wanted it to be completely self-funded and under his own control. He spent months teaching himself about documentary filmmaking, and he used the money he had been saving for Vietnam to purchase video equipment. Shooting the film was a challenge, especially because he was working by himself. He used a camera with night vision in order to film the ceremonies without compromising their integrity. But most of all, he says, the challenge was to translate the essentially internal ayahuasca experience into film.
After months of filming in the jungle, additional trips for supplementary footage, and about fifteen rough cuts, Aronowitz felt confident that he had captured the story he wanted to tell. The film, cut down to ninety-five minutes, was titled Metamorphosis.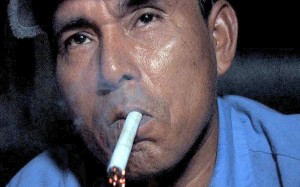 Don Alberto Torres Davila
Then came more challenges — distributing the film. Once again, despite having a distribution deal, Aronowitz decided he wanted to do it himself. He began with small private screenings while he submitted his work to film festivals. At the 2009 Breckenridge Film Festival in Colorado, Metamorphosis won the award for Best Cinematography. He has shown the film at the Wild Project in New York, and at the Fifth International Conference on Amazonian Shamanism in Iquitos, Peru. He sells the DVD of the film online here.
Metamorphosis follows five westerners — ayahuasca tourists — on a nine-day retreat at the jungle lodge maintained by Blue Morpho Tours, where they participate in five ayahuasca ceremonies. The lodge is run by Hamilton Souther, who has been practicing shamanism for about seven years. "The spirits came along," Souther says in the film, "and they said to me: You have to go into the jungle and drink ayahuasca." Souther apprenticed under don Alberto Torres Davila and don Julio Gerena Pinedo, and they now all work together leading ceremonies at the lodge. The film tells Souther's story, incorporates his explanations of the ceremonies, and portrays the physical, emotional, and spiritual changes through which he guides his guests.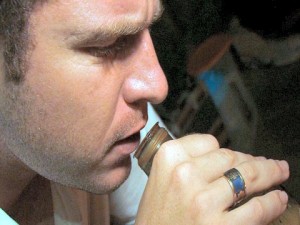 Hamilton Souther
The film does not flinch from depicting the sometimes overpowering physical and psychological effects of the drink. "Everybody who comes here suffers," says Souther. Aronowitz puts this into his own context. "Fear is not the only thing that takes place," he says. "You experience divinity. Universal knowledge through visions. Oneness. Love. Your heart opens. You feel connected to everyone and everything. I feel like I had to go to hell in order to get to heaven."
Blue Morpho Tours specializes in what it calls all-inclusive shamanic workshops. The lodge is relatively comfortable, at least compared to the amenities available in local villages, and has hosted not only tourists but also journalists who have described their ayahuasca experiences in such widely read publications as the Houston Chronicle and National Geographic magazine.
Perhaps because of its success, Blue Morpho Tours has attracted both criticism and defense, largely concerning the commercialization of indigenous spirituality and the effect of ayahuasca tourism on local communities. "Blue Morpho is a unique place," Aronowitz says, "because one of the shamans is a westerner. He left his life in America in order to learn this healing tradition in the middle of the Amazon. So he's a conduit to helping other people heal through this tradition."
Here is a trailer for the film. Additional clips are available here.
Cheryl Lynne Bradley has posted a lengthy interview with Aronowitz, and Adam Elenbaas has an interview on Reality Sandwich. The film has a Facebook page, and Aronowitz recounts his story here. There is an audio interview by Nick Zart on Radiohuasca which you can listen to here: