We should not have an overly optimistic view of biomedicine in the Amazon. The standard of care can be appalling — "amazingly awful and absurd," one anthropologist has called it. If patients want sterile syringes, they have to buy them themselves at a local pharmacy and bring them to the hospital for the doctors to use. Sitting in Chachapoyas, capital of Amazonas, a friend, a native of the city, told me of her stay in the regional clinic, where supplies were so scarce that surgeons conserved their gloves by turning them inside out for use on the next patient.
—Steve Beyer,
Singing to the Plants
(2009)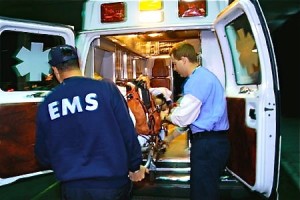 This is not the jungle
Emergency medical services are available in almost all urban areas in the developed world. While it is always good for everyone to have some first aid and basic life support training, EMS is readily accessible in most cities for most foreseeable medical emergencies. In the jungle, however, even at a center near a city such as Iquitos or Pucallpa or Puerto Moldanado, you might be hours by boat away from medical services that may be less than optimal for many medical emergencies. Even further into the jungle, you may be days away from a local medical center that is ill-equipped, staffed with poorly trained non-medical personnel, and without such basic supplies as sterile syringes or IV starter kits. Under those circumstances, it may be important to know what provisions have been made for the emergency wilderness care of such foreseeable but potentially life-threatening medical emergencies as burns or lacerations and their often concomitant infections.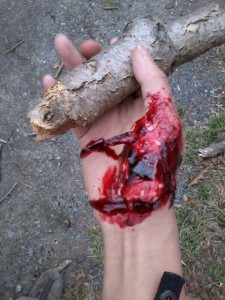 Is the center prepared to treat wounds and prevent infection?
My thinking about risk management at ayahuasca retreat centers began with the by now well-known and tragic death of Kyle Nolan at the Shimbre retreat center near Puerto Maldonado. As of this writing, we do not know the exact cause of death, but the death may well have been — and the panic-stricken attempt to hide the body almost certainly was — the result of inadequate planning, preparation, and training — that is, the lack of a risk management plan.
For many people, the experience of drinking ayahuasca in the jungle, perhaps for the first time, perhaps with strangers, is enhanced rather than reduced by the knowledge that they are in the care of people who are concerned for their safety, have made plans for emergencies, and have protocols in place to rescue them if they get into trouble. For others, the experience of being far in the backcountry, with all its attendant risks, may enhance the ayahuasca experience considerably. What we are seeking is a way to provide such potential clients with information, so that they can make informed choices about what center matches their preferred level of risk.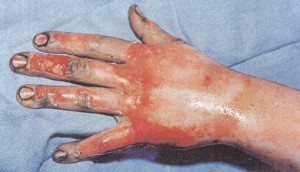 A kereosene lamp tipped over. What happens now?
That is why, below, I have set out a risk management plan against which potential clients can measure the preparations of a jungle retreat center. I do not believe there should be anything compulsory about such a risk management plan, and I am emphatically not recommending that such a plan be imposed by any government or regulatory agency. I suggest instead that ayahuasca centers might want to provide this sort of information about their risk management programs to prospective clients, and prospective clients should feel emboldened to ask ayahuasca retreat centers about the risk management programs they have — or do not have — in place.
In that way, consumers could determine which centers matched their own level of desired risk and choose accordingly. And centers might also bear in mind that their own risks — risks of legal liability, bad publicity, loss of business, and even criminal charges — may be reduced, along with the risks of their clients, by having in place and meticulously following an appropriate risk management plan.
---
A DRAFT RISK MANAGEMENT PLAN FOR AYAHUASCA CENTERS
I. An Introduction to Risk Management
A responsible ayahuasca retreat center should have a comprehensive risk management program in place. A risk management program includes a systematic analysis of risks, a plan for minimizing those risks, and protocols for dealing with any risks that in fact materialize. A risk management program protects both the center and its clients. It minimizes the risk of physical and other harms to clients, and it helps to protect the center from legal liability and damage to its reputation in the event that harm occurs.
Central to risk management is the creation of a Risk Management Committee. A risk management committee should be able to draw on expertise in emergency care, local environmental hazards, wilderness safety, legal liability, insurance coverage, and the risks peculiar to the use of ayahuasca and other psychoactive substances.The risk management committee is ultimately responsible for three phases of risk management — prevention and planning; immediate response; and documentation and control.
Prevention and planning means undertaking a comprehensive review of potential emergencies or accidents, taking steps to prevent them, and developing written protocols to handle and control them when they occur.
Immediate response means putting into action the protocols developed in the planning phase in order to handle and minimize the harm of an emergency or accident.
Documentation and control means managing the consequences of an emergency or accident, including record keeping, public relations, potential legal liability, and interaction with public authorities.
II. A Draft Risk Management Plan
1.
Medical emergency personnel
There should be on staff and in residence at least one person certified as a Wilderness First Responder or its equivalent. The written risk management plan should include the names and qualifications of all such medical emergency personnel.
One person so certified should be made responsible for implementing the protocols and procedures established by the risk management committee and for carrying out any emergency action plan as required.
The written risk management plan should include the names, addresses, contact information, and routes to clinics, hospitals, and physicians who are prepared to treat the center's clients on an emergency basis.
If the center plans to use indigenous healers for foreseeable emergency situations — for example, broken bones, childbirth, or snakebite — then this information should be included in the written risk management plan, including the names, locations, contact information, and routes to such indigenous healers.
2.
Emergency action plans
There should be written protocols for dealing with foreseeable medical emergencies, including burns, lacerations, heart attacks, allergic reactions, broken bones, snakebite, animal attacks, hyperthermia, infections, drowning, dental emergencies, gunshot wounds, choking, lightning strikes, treefalls, emergency childbirth, hernias, crush injuries, seizures, and others. A workable list can be derived from a general text on wilderness first response.
There should be written protocols for dealing with non-medical and environmental emergencies, including fire, flood, intruders, sexual assault or molestation, theft of client property, assaults by or on staff or clients, and sudden unexpected deaths, including suicide. These protocols should include contact information for local emergency service providers and public safety personnel.
All staff should be familiar with all emergency action plans, and resident medical emergency personnel should conduct in-house reviews of the medical emergency protocols.
The risk management committee should review the list of foreseeable medical, non-medical, and environmental emergencies to determine which can be reduced or eliminated by discontinuing or avoiding certain activities, or by providing safety equipment, such as personal flotation devices for travel by canoe. Each center must determine the level of risk consistent with its values and potential liability and the wishes of its clients.
3.
Client risk management
The center should provide potential clients with written medical criteria for participation in the center's program, and should perform medical screening by written questionnaire, personal interview, or both, in order to exclude potential clients who fail to meet those criteria.
Potential clients should receive a standard written disclosure form that provides them with full and complete information about medical, environmental, and other risks that are inherent in participation in the center's program.
Clients should have signed an appropriate waiver of liability, acknowledging the risks set forth in the disclosure form and giving informed consent to undertake those risks in order to participate in the center's program.
The center should distribute a document that sets forth, and thereby seeks to prevent, behavior that would be hazardous in the unfamiliar jungle environment, including, for example, approaching animals in the wild or touching colorful caterpillars.

Clients should be provided with a clear statement of the rules of conduct governing their participation in the center's program, including, for example, the use of drugs or alcohol, sexual misconduct, theft of property, or disruptive behavior.
Clients should be provided, a reasonable time before arrival, with a list of clothing and equipment the center recommends for their stay, including clothing and equipment for insect and sun protection.
Each client should provide the center with contact information of a friend or family member for notification in case of accident or injury.
4.
Emergency communication and transportation
The center should ensure that it has adequate and alternative modes of transportation available for emergency patient transfer or evacuation, including motorized boats and vehicles where applicable.
Patient transfer and evacuation routes should be prepared ahead of time, maintained in written form along with relevant with maps and directions, and periodically traveled in test runs.
The center should ensure that it has adequate and alternative modes of communication — including, where applicable, cell phones, satellite phones, and landlines — for emergency reporting and receipt of advice and instructions.
All contact information for all emergency service providers should be posted prominently and reviewed periodically.
5.
Insurance
The risk management committee should make sure that there is sufficient primary and excess liability coverage for the level of risk in the center's program. The risk management committee should perform this insurance audit in consultation with a knowledgeable broker.
The risk management committee should review any exclusions from coverage that may be part of the center's general comprehensive liability policy, and undertake to fill with additional coverage any gaps in liability protection.
The risk management committee should determine whether the center's liability coverage extends to staff and officers and directors of the organization, and steps taken to fill in any gaps in coverage.
6.
Equipment and facilities
The risk management committee should develop a list of contents for a first aid kit suitable for foreseeable emergencies at the center. The center should provide a first aid kit with adequate supplies of the contents recommended by the risk management committee. The first aid kit should be properly stored, readily accessible, and periodically inspected, and all staff should be familiar with its location and use.
The center should develop and post a written plan for the maintenance and inspection of critical equipment, including boats, vehicles, ropes, emergency supplies, fire extinguishers, insect netting, and client accommodations. Staff should be assigned these maintenance and inspection duties on a fixed schedule, posted prominently and periodically reviewed, along with checklists to be submitted for the center's records.
The center should develop and post a written plan for food storage and preservation and for the provision of purified or uncontaminated water to clients. The center is responsible for providing food that is consistent with the use of ayahuasca or other psychoactive plants or substances.
7.
Staff risk management
The center should develop a protocol for screening staff prior to retention, including review of prior employment, prior employer references, criminal history, and history of complaints at prior employment.

The center should establish a regular program of reviewing all emergency action plans with all staff to ensure familiarity in the event of an emergency.
The center should establish a written protocol, posted prominently and reviewed periodically, that assigns specific emergency tasks to specific staff members, including such tasks as accessing fire extinguishers or first aid materials, preparing transportation for patient transport or evacuation, or contacting emergency service personnel or offsite medical providers.
8.
Documentation
The center should develop and have readily available preprinted accident and emergency medical report forms and witness statement forms. Complete documentation should be prepared and maintained for any emergency or medical incident that requires more than simple first aid, such as a Band-Aid, requires offsite follow-up care, or significantly interferes with the client's continuing active participation in the center's program.
When an emergency has occurred, the center should appoint an incident coordinator to provide interested parties, local public safety personnel, and the press with accurate information, notify the center's legal council and insurance carrier, and gather and maintain all proper documentation of the incident.